Regular price
Sale price
RM298.00
Unit price
per
Sale
Sold out
Buy now & get it between -
Descriptions:
An introductory selection of pure essential oils designed to help you discover the amazing benefits of aromatherapy or to enhance an existing collection. Comprising 5 versatile essential oils, 1 Sweet Almond Blending Oil, a glass mixing bottle and measuring cup, this comprehensive starter kit includes a handy booklet with over 16 aromatherapy blends for you to create.
Why Choose This Product?
100% natural ingredients
Created by aromatherapy experts using the purest essential oils
Ideal as a gift
View full details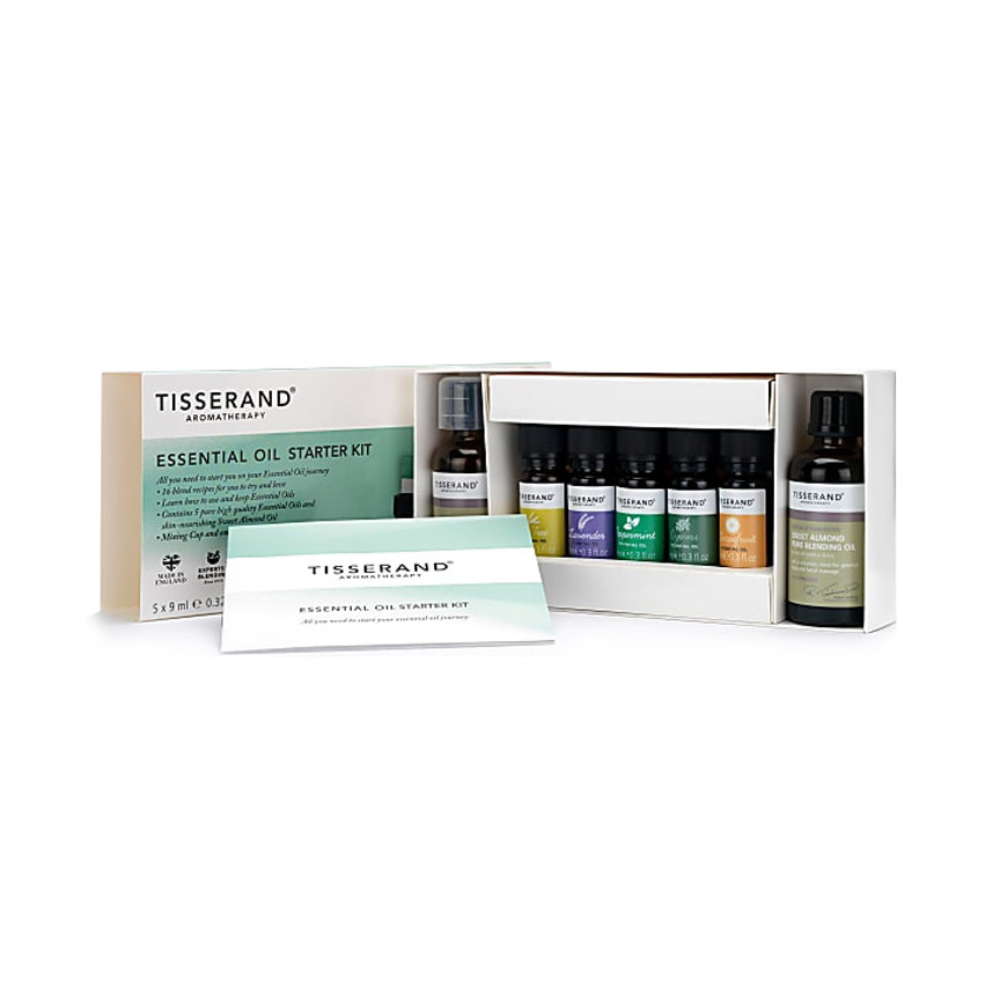 Collapsible content
DETAILS

Set value: RM 323

Savings: 7%

Essential Oil Starter Kit (Tea Tree, Lavender, Peppermint, Cypress, Grapefruit and Sweet Almond Blending Oil)
DIRECTIONS

Directions:

Make a massage or body oil:
Measure 10mL Sweet Almond base oil into your calibrated cup. If using a single essential oil add 5 drops (2 drops for peppermint)

Use in a vaporiser or diffuser to scent your home:
Add 5 drops each of 2 essential oils to a diffuser or vaporiser for approximately one hour of aroma.

Use as an inhalation:
Half fill a heatproof bowl with very hot water. Add 3 drops each of 2 essential oils, lean over the bowl and inhale the steam to clear your head. Note - remove glasses or contact lenses. bold*Inhalations are not advised for asthama sufferers.

Use as a relaxing bath treat:
Add 3 drops each of 2 essential oils and swirl into the water.

On the move:
Add 3 drops of your oil of choice and inhale when required.
INGREDIENTS

Tea Tree (9ml) – Cleansing & purifying with a herbal aroma.

Lavender (9ml) – Light, clean & refreshing with a floral aroma.

Peppermint (9ml) – Cool & soothing with a fresh minty aroma.

Cypress (9ml) – Strong & restoring with an evergreen aroma.

Grapefruit (9ml) – Zesty & bright with an energizing and stimulating aroma.

Sweet Almond Blending Oil – A natural source of Vitamin E, known for its skin-softening and nourishing properties.

Measuring cup

Empty glass Mixing Bottle

Essential Oil Starter Kit Booklet
SAFETY

Safety:

Never swallow essentials oils.

Do not use undiluted on the skin.

Consult your healthcare professional before using essential oils during pregnancy.

Keep out of reach of children.

Best kept in a cool, dry, and dark place.

Once opened, use within a year.

Do not use essential oils on children under 5 years old.

Always count the precise number of drops in a formula.

Essentials oils and aromatherapy should not be used as a replacement for medical advice or treatment